Lou Henson, a native of Okay, Okla. played basketball for Connors State College from 1951-53 before continuing his collegiate career at New Mexico State University, and beginning an outstanding coaching career that spanned 53 years.
The first Cowboys basketball player to have his number retired (11) in 1996 and was inducted into the CSC Athletic Hall of Fame, surprised the crowd of 140 at the Muskogee Country Club on Oct. 6, when it was announced that he donated $5,000 to the men's basketball program.
"I am very appreciative of Coach (Lou) and Mary Henson for making such a generous donation to our men's basketball program," said Connors State Athletic Director and Cowboys head basketball coach Bill Muse.
"Its contributions like this that continue to keep our program one of the best in the nation," said Muse.
Henson began his coaching career at Las Cruces, N.M., High School in 1959, winning three state titles before moving into the college ranks in 1962 at Hardin-Simmons University, where he posted a 67-36 mark. After four seasons he took over at his alma mater, New Mexico State, taking the Aggies to the Final Four for the only time in the school's history in 1970, losing to eventual national champion UCLA in the semifinals.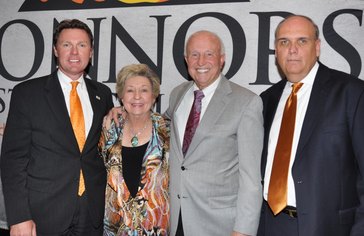 During his nine seasons at New Mexico State he led the Aggies to six NCAA Tournaments and four 20-win seasons, compiling a 173-71 record.
Henson then moved to the University of Illinois, leading the Illini to the Final Four in 1989, before retiring after 21 seasons in 1996. He compiled an overall record of 423-224 at Illinois. He guided the Illini to 12 NCAA Tournament appearances and three NIT appearances.
However, New Mexico State reached out to their alum following a scandal that removed the head coach just before the season opened. Henson stayed until 2005 posting a 135-86 record, which included three more NCAA Tournament appearances and three trips to the NIT.
Henson's overall collegiate coaching record is 779-422 to rank No. 6 on the all-time list among coaches.