Welcome to Millers Crossing Clubhouse!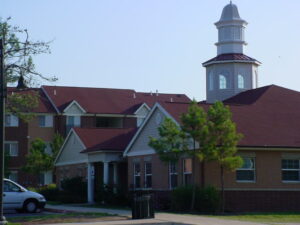 Millers Crossing Clubhouse is where our Residential Coordinators and Managers are located.
If you have a need, this is where you go and our helpful staff will assist you!
You will also find your laundry facilities, computer labs, student lounge (including two pool tables, Foosball table, ping-pong table, a 60″ Flat-Screen TV, board games, and kitchen area), and outdoor pool! This is a wonderful place you can use to study and have fun with your friends, whether it be hanging out and watching TV or playing games and swimming. You'll love everything Miller's Crossing Clubhouse has to offer!
Connors State College offers apartment-style living, which will satisfy all your needs with available Internet capability in the common areas and close Laundry and Computer labs!  There is also an outdoor pool located behind Millers Crossing Clubhouse, which all residents can enjoy, during the warm weather!
For your safety, there is an armed security officer on duty 24 hours a day!
Maintenance staff is also available throughout the week if any problems arise in the dorms.
You can also see our Residential Handbook here.
For more details and further information, you can visit Connors Housing Options!