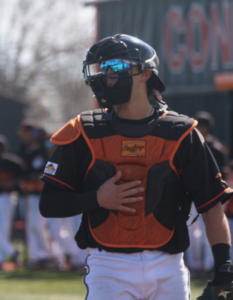 Brady Cerkownyk, of Connors State baseball, has been chosen by the Detroit Tigers with the 440th overall selection in the 15th round of the 2023 MLB Draft.
In his time in Warner, Brady Cerkownyk has been remarkable for the Cowboys. He excelled in 55 games, finishing second in the nation in batting average (.470), second in home runs (27), and first in RBIs (107). He narrowly missed winning the NJCAA Triple Crown, while also leading the nation with a .985 slugging percentage.
Cerkownyk, a Toronto-born catcher, has been a top prospect for quite a while. Earlier this year, he was a part of USA Baseball's 2023 Golden Spikes Award Midseason Watch List.
"He came in and had a great year for us," said Connors State College baseball coach, Perry Keith. "Some of these guys are ready physically, some are ready mentally for what it takes to succeed at that level, but Brady's ready. He's ready for what it'll take, and it wouldn't surprise me at all to see him in the Major Leagues. And that's why he came here, was to make an opportunity for himself and he capitalized on that. I couldn't be any prouder of him."
The Connors State College baseball program has a longstanding tradition of nurturing and developing exceptional athletes, and Brady Cerkownyk's selection in the 2023 MLB Draft is another example of the program's commitment to excellence. With last night's draft, over 130 Cowboys have been drafted all-time, with more than a dozen making it to the Major League.
The entire Connors State College community extends its warmest congratulations to Brady on this exceptional accomplishment. We eagerly anticipate watching his journey in professional baseball and will continue to support him as he represents our college at the highest level of the sport.
###
For media inquiries or further information, please contact:
Matthew Harmon
Public Relations
Connors State College
(918) 463-6370
matthew.harmon@connorsstate.edu