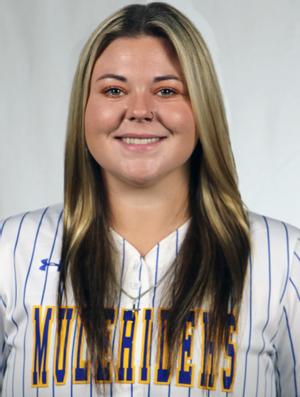 WARNER, OK – Connors State College is thrilled to announce the appointment of Coach McKennah Sikes as the new Assistant Coach for the Cowgirls Softball Program for the upcoming academic year. Coach Sikes, a highly accomplished former high school, NJCAA, and NCAA DII softball athlete, brings a wealth of experience and expertise to the team.
In her playing days, Coach Sikes made a significant impact on the softball field. During her time at Van Buren High School from 2015 to 2017, she stood out as both a pitcher and first baseman, leading the Lady Pointers to top 5 finishes in Class 7A in the state tournament for three consecutive years. Her remarkable achievements included holding every hitting and pitching record at Van Buren High School. Notably, she finished her high school career with an outstanding batting average of .438, amassing 167 hits, 31 home runs, and 162 RBIs. On the mound, she showcased her pitching prowess, recording 77 career wins, 334 strikeouts in 395 innings pitched, and an impressive 2.11 ERA. Her exceptional skills and dedication earned her All-State honors in each of her three seasons, and she was also selected to participate in the Junior and Senior All-Star Games. In 2017, she was further recognized as the Arkansas/Oklahoma River Valley Preps Player of the Year.
Following her high school success, Coach Sikes continued her softball journey at NJCAA DII Jones County College in Ellisville, Mississippi, under the guidance of Coach Chris Robinson. In her freshman season, she was an integral part of the 2018 NJCAA DII National Championship team, helping the Bobcats achieve an outstanding overall record of 54-3 and securing State and Conference Championships. During that season, Coach Sikes displayed her versatility as a player, hitting .399 AVG with 9 home runs and 40 RBIs, with an exceptional performance in the national tournament, including 4 home runs, 2 of which were in the championship game. Her outstanding contributions earned her a well-deserved spot in the First Team All-MAJC. In her sophomore campaign, she continued to impress, leading the Bobcats with a remarkable .499 AVG, ranking 9th in the country for home runs (17), and 15th in RBIs (61). Additionally, she made 8 appearances on the mound, boasting a 1-0 record in 12 2/3 innings with a 1.66 ERA. Coach Sikes' exceptional talents and contributions did not go unnoticed, as she was named a NJCAA All-American, NFCA First Team All-American, and Fast Pitch News All-American. She also earned the distinction of being ranked 41st in the top 100 players in the country in 2019. Over the course of her time at Jones County College, she achieved a career batting average of .433, along with 25 home runs and 99 RBIs. In the pitching circle, she maintained a 6-0 record with a remarkable 1.56 ERA.
After a challenging year due to the COVID pandemic, Coach Sikes signed on to play at Southern Arkansas University in Magnolia, AR, where she continued to excel as a first baseman and designated hitter. Her tenure at SAU was marked by academic excellence, making the Dean's List while earning her Bachelor's Degree in Psychology with a Minor in Sociology. On the field, Coach Sikes played a vital role in the team's success, as the Muleriders were ranked as preseason #1 in NCAA Division II and clinched a GAC Conference Championship during the 2021 season.
Coach Sikes further honed her skills and passion for the sport by serving as a volunteer coach at Gore High School under Coach Dusty Tidwell.
The entire Connors State College community is excited to welcome Coach McKennah Sikes to the team. With her extensive experience as a player and her dedication to coaching, the Cowgirls Softball Program is poised for a successful and transformative season under her guidance.
About Connors State College:
Connors State College has a long history of providing the people of eastern Oklahoma with access to higher education. Since seating its first class of 17 students in 1908, the institution has grown into a comprehensive, multi-campus, two-year college that enrolls more than 3,000 students annually. To learn more about Connors State College or how to enroll, please visit connorsstate.edu.
Media Contact: Matthew Harmon, Public Relations, matthew.harmon@connorsstate.edu