More information coming soon on scheduling enrollment appointments. Check back after April 15th, 2022 for updates.
You've been admitted, now what?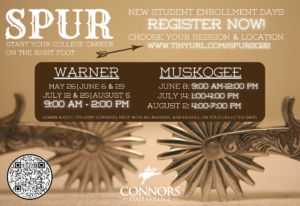 Kick start your college career by registering for your SPUR session. This is your first step to success as a new student at Connors State College. You can select from a variety of dates on both the Warner and Muskogee campuses. Choose one that works best for you! You are welcome to bring a parent, guardian, or adult guest with you to learn information right along with you.
What can you expect from your SPUR session?
Navigating your first semester
In-depth look at financial aid and paying your bill
Learn more about living on campus
Hands-on look at technology & systems you'll be using as a CSC student
Advice on buying books (what's an e-book anyway?)
Meet with an advisor
Build your schedule and enroll, you'll leave with your fall schedule!
Get your student ID card
And lots more!
What are you waiting for? Pick your date, and register today! We can't wait to #SeeYouAtCSC!
SPUR dates, times, and locations:
Warner:
all sessions are from 9:00am-2:00pm
May 26
June 6 & 29
July 12 & 25
August 5
Muskogee:
June 8, 9:00am-12:00pm
July 14, 1:00-4:00pm
August 2, 4:00-7:00pm